Nursing union warns against Oxfordshire cuts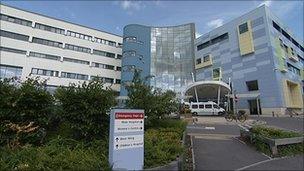 The Royal College of Nursing has warned there will be a loss of services at Oxfordshire's hospitals if planned savings are achieved.
The Oxford Radcliffe Hospitals Trust says it needs to reduce staff numbers by between 7% and 8% for 2011-12.
It currently has 8,400 full-time posts, so that could mean between 588 and 672 fewer jobs in its hospitals.
The £6.1m reduction in staff costs are part of a wider £52.7m savings plan for the financial year.
In a statement the trust said it had no immediate plans for compulsory redundancies but they could not be ruled out.
Julian Hill from the Royal College of Nursing said: "Do we really need to save this money in this way? It's a real struggle to see how these savings can be made.
"We don't know what they are going to do, they don't know what they are going to do."
If achieved, the savings should leave the NHS trust with a £6m surplus so that it can eliminate some of the its historic deficit.
A spokesman said: "The trust is committed to maintaining the quality of services provided to patients but has to do so within the agreed financial envelope."
Related Internet Links
The BBC is not responsible for the content of external sites.