Oxford Brookes University sets £9,000 tuition fees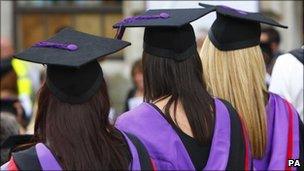 Oxford Brookes University has announced it intends to charge the maximum £9,000 a year in tuition fees.
It also plans to reduce the number of undergraduate students on campus by between 10 and 15%.
Vice Chancellor Professor Janet Beer said: "It will lead us to focus even more on improving the qualities of a Brookes degree."
The Office for Fair Access (Offa) must now confirm universities' fees and access programmes, expected in July.
President of Oxford Brookes' Students' Union, Lucie Acraman, said the union was pleased with the overall decision the university had made.
"We are particularly reassured by the emphasis on both continuing to improve the student experience and the demonstrable commitment to widening access to higher education," she said.
The University of Oxford has already stated that it also intends to charge the maximum level of fees.
Related Internet Links
The BBC is not responsible for the content of external sites.