Oxford homeless centre gets new building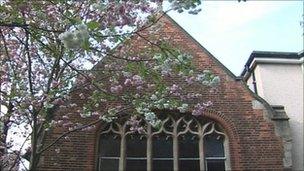 A homeless charity in Oxford has found new premises for its drop-in centre.
For the last 20 years, The Gatehouse had been providing free meals to people from the basement of Northgate Hall on St Michael's Street.
But the charity was asked to leave by Oxford City Council which is reviewing the way it uses its buildings.
It has now been offered space in the parish rooms behind St Giles church on the Woodstock Road.
Director Andrew Smith said: "We're really excited at the prospect of the move, although it's going to involve a lot of preparation and hard work."
The building is due to be refurbished and it will need to be adapted to provide a suitable space for The Gatehouse.
The charity is looking to raise £175,000 to meet the costs of new office and kitchen equipment as well as works to the outside of the building.
Related Internet Links
The BBC is not responsible for the content of external sites.