Young Knives and Little Fish headline Truck's Record Store Day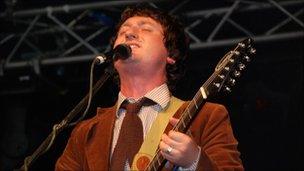 Young Knives, Little Fish and Adam Barnes are set to play Truck Store in Oxford to celebrate Record Store Day.
The event is part of an international campaign aimed at encouraging people to support their local record shops.
This year Gorillaz, The Beach Boys and Radiohead are putting out exclusive releases only available in the shops.
Adam Barnes said: "It's great to be involved with something that's supporting our only independent record store in Oxford.
"I'm really excited to have been asked to play and to be the first act on, opening up two days of unbelievable artists."
Truck Store was opened on the Cowley Road in February by Rapture Entertainment in Witney and the organisers behind Truck Festival.
The full stage times are as follows:
1430 Good things happen in bad towns
Exclusive records from participating artists will be available when Truck Store opens at 0900 BST Saturday 16 April.
Related Internet Links
The BBC is not responsible for the content of external sites.