Wallingford Museum cancels extension over funding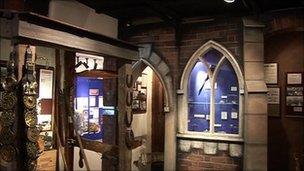 A proposed extension to an Oxfordshire museum has been cancelled after it failed to secure enough funds.
Wallingford museum had proposed to build an oak wood annexe at the rear of its current building to provide extra space for its exhibits.
But it only raised about £60,000, far short of its £380,000 target.
Stuart Dewey from the museum said: "It's going to be difficult to function without the additional space but we'll find a way, we always do."
This year it will celebrate its 30th anniversary and has eight new exhibits planned for the coming season.
But Mr Dewey said the extension project was definitely finished.
"I don't want to give the impression that we're just shelving it for three or four years and then we'll dust it off, I don't believe that's going to be possible," he said.
The trustees will now return donations already made and look for other ways to house the museum's collection, which is made up of artefacts from the town's history.
Related Internet Links
The BBC is not responsible for the content of external sites.