Thame in Oxfordshire unveils four blue plaques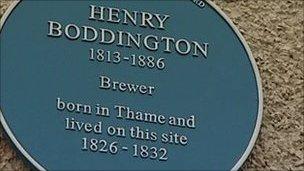 Four blue plaques have been unveiled in an Oxfordshire town to mark some of its most famous residents.
The commemorative signs were put up in Thame on Thursday.
The signs honour brewer Henry Boddington, violinist Alfredo Campoli, boxer James Figg and poet William Butler Yeats.
Dave Bretherton from the blue plaques initiative in Thame said they were a useful way of letting people know about the history of the town.
Mr Bretherton said the signs revealed a number of surprising stories like the fact that Henry Boddington was born in Thame in 1813 before moving to Manchester to make his fortune in brewing.
At the James Figg Pub there is a plaque dedicated to its namesake, the little known prize fighter James Figg.
He was born in 1684 in Thame and used to boast: "Here I am Jemmy Figg from Thame. I will fight any man in England."
For most of his life he lived in London where he became Champion of England in a number of fighting disciplines.
The Irish poet and Nobel Laureate William Butler Yeats was not born in the town but has a plaque at 42 High Street where he lived during 1921.
The house was the birthplace of his son Michael Butler Yeats, the Irish Senator.
Most recently the Oxfordshire town was home to violinist Alfredo Campoli.
The Italian soloist lived at 39 North Street for about the last 10 years of his life until his death in 1991.
Related Internet Links
The BBC is not responsible for the content of external sites.