The Oxfordshire Museum unveils underwear exhibition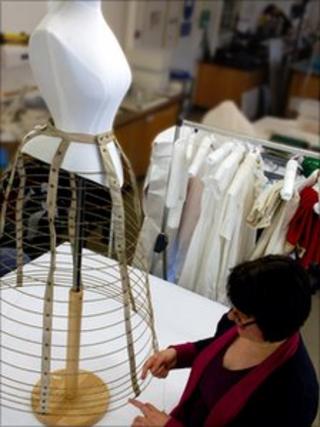 Underwear of different shapes and sizes from throughout history will be exposed at a new exhibition.
The items at the Oxfordshire Museum in Woodstock were supplied by Oxfordshire County Council's Museum Service collections.
Sarah Morton, the council's objects conservator, said: "People may never think of underwear in the same way again."
Garments range from early Anglo-Saxon linen smocks to modern bras.
Both sexes and all ages are covered with a focus on how the materials and innovations used to make underwear have changed over the centuries.
On show is an 18th Century woven blue silk dress worn in 1885 by Lady Wantage which required special underwear for support.
Bust improvers
The exhibition, which runs from Saturday until 12 June, also boasts a machine-made cage crinoline.
This skirt-shaped structure was fashionable in the late 19th Century and sported 19 spring steel wire hoops.
And bust improvers are on display from Spencer Corsets Limited, an American company that built a factory in Banbury in 1926 and specialised in individually-designed foundation garments.
Ms Morton said: "Revealed: The Underwear Revolution is an exciting new exhibition with a focus on how innovations and technology changed what we wore beneath our clothes.
"It is also a fantastic opportunity to see a part of the county council costume collection that is usually hidden away, with many pieces being displayed for the first time."