Portsmouth NHS trust gets cancer care 'red card'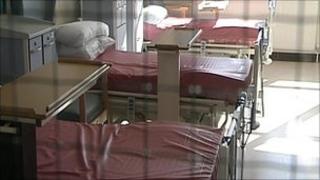 A Hampshire health trust has been ranked in the bottom 10 hospitals in England for the experience of cancer patients.
Portsmouth Hospitals NHS Trust was given a "red card" by the Department of Health in December, figures only just released show.
The figures revealed fewer than half of patients felt there were "always or nearly always" enough nurses on duty.
A trust spokeswoman said wards were not short-staffed at the time.
The spokeswoman added patients might have felt there were insufficient nurses because of the size of the hospital.
"Staff don't seem to be as visible," she said.
The number of nurses remains at the same level.
Macmillan Cancer Support is working with the trust and said some improvements had since been made to quality of care.
The National Cancer Patient Experience Survey measured patients' experiences while being treated at 158 NHS trust hospitals last year.
On 33 out of 75 questions the Portsmouth trust was given a red card, showing it was in the bottom 20% of all trusts.
There were 67,713 participants across England, with 778 completed questionnaires from Portsmouth.
'Let down'
Questions focused on the level of support provided before, during and after treatment for cancer. It did not cover medical treatments received.
The figures revealed that just 46% of patients were satisfied with staffing levels.
Ciaran Devane, chief executive of Macmillan Cancer Support, said: "Cancer patients are being let down by trusts that are failing to give adequate levels of care."
But Simon Holmes, medical director at Portsmouth Hospitals NHS Trust, said: "We have identified key issues that should be addressed and have made significant progress already.
"For example waiting times in our chemotherapy unit have reduced."
He said the trust's performance was due to patients being surveyed shortly after the new Queen Alexandra Hospital was opened, "which we recognise could have been an unsettling experience".
Services were relocated to the site in 2009 from Haslar and St Mary's hospitals and the then Queen Alexandra Hospital.