Oxfordshire moped crash victim was 'beautiful boy'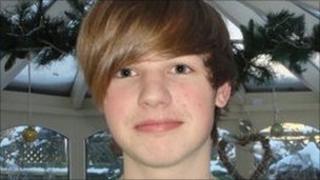 The family of a 16-year-old boy killed when a car collided with his stationary moped in Oxfordshire have paid tribute to their "beautiful boy".
Edward Lynch, of Kidlington, died from his injuries in hospital after the Audi A6 collided with his Aprilia in Clifton Road, near Deddington, last Friday.
His family said he was an "intelligent" and "vibrant" boy.
The driver of the Audi, a 52-year-old Banbury man, was arrested on suspicion of causing death by dangerous driving.
He was later released on bail.
The teenager's family added in a statement: "It is impossible to even begin to explain the pain we have all felt since that dark night when we lost Eddie.
"We cannot believe that our vibrant, intelligent, beautiful boy with an amazing determination in life, has been so cruelly taken away from us, when his life had barely just begun.
"He will remain in our hearts and thoughts for the rest of our lives."
Police have appealed for witnesses.