Easter bunny 'think twice' plea by animal centre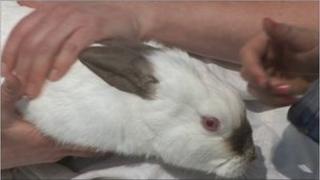 An animal centre in Oxfordshire is urging people not to buy pet bunnies for their children this Easter after seeing a rise in abandoned rabbits.
The Blue Cross adoption centre at Burford has taken in more than 44 bunnies in the past three months, compared to 26 this time last year.
The centre has had no less than 10 rabbits in at any one time.
Small animal co-ordinator Katie Stiles said: "We've been taking in really large groups, sometimes up to 13."
"We've seen many owners who simply couldn't cope with having so many animals.
"Rabbits are very sociable and like to be kept in pairs or a compatible group, but unless they're neutered this can lead to over-breeding."
The centre, which rehomes abandoned small animals, hopes people will think about the expense, commitment and work involved before getting a rabbit for their family.