Bishop of Oxford backs non-Christian church marriages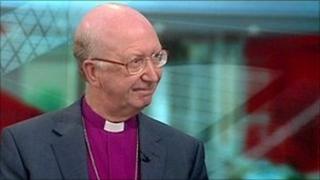 The Bishop of Oxford has said he is relaxed about non-Christians getting married in church.
The Right Rev John Pritchard said: "As long as they are wanting to take this as seriously as they are able then to my mind it's the start of a journey."
He said that statistics showed marriages were more stable than cohabiting relationships.
Secular campaigners welcomed the bishop's comments and said it was a move in the right direction.
Bishop Pritchard has already said that church schools should relax their admissions policies to allow more non-Christians pupils.
And he added that church marriages should also be more open because they were the most "satisfying and successful" way for a couple to commit.
He said the Church's main function was to serve the wider community and weddings were an example of an area where they could help society.
'Powerful vows'
"It's a great context to make these powerful vows, these serious statements.
"You know that what you've done is something serious, it isn't something that you can tear up on a whim," he said.
Terry Sanderson, the president of the National Secular Society, said: "He will probably get an awful lot of stick for a comments like that but I think it's a good thing and he's going in the right direction."
Although Mr Sanderson said he was sceptical about how it could work in practice.
"If genuine non-believers turn up at a church and ask to be married then they have to make certain promises.
"If the vicar knows that they don't really believe in those promises then it seems to me that there would be a certain amount of hypocrisy there," he said.