West Oxfordshire Vetka Association's work in Chernobyl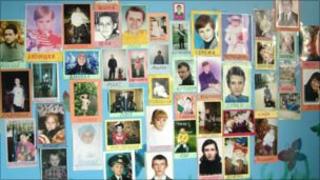 Nigel Roberts describes them as "the forgotten people of Europe".
He's one of the founders of the West Oxfordshire Vetka Association, a charity that supports schools, hospitals and sustainable developments in a district of Belarus.
It was an explosion at the Chernobyl Nuclear Power Plant on 26 April 1986 that led to areas of Belarus, Russia and Ukraine being contaminated with radiation.
Vetka was one of the worst places affected. It will be two generations before radiation reaches acceptable levels and 244,000 years before it returns to pre-Chernobyl levels.
'Crossroads'
Mr Roberts' involvement with the plight of the people of Vetka began with an email from the United Nations Association Oxford in 2001.
Curiosity led him to attend a public meeting with Belarusian officials highlighting the agricultural concerns in the area.
A small local steering committee was set up and contact made with the British embassy in Minsk.
Mr Roberts said: "I decided to go along for the ride.
"With each passing year, it feels ever more like one of those crossroads moments we all have in our lives."
After various funding initiatives in Witney a charity was set up with the Charity Commission.
One of their most successful projects was the setting up of a children's correction centre in Vetka.
'Wonderful people'
Mr Roberts said: "It's a bit of a grim old name but it's the only support facility that co-ordinates assistance for profoundly disabled youngsters and their families.
"There are a significant number of physically and mentally disabled youngsters up to the age of 17 or 18, some of which have no motor function at all.
"The staff who work there are wonderful people that devote time and money of their own into looking after these kids, but the building is falling down, half of it is derelict, and it's in need of major structural and decorative repair."
Mr Roberts now visits the country twice a year and is about to return for another 10 days to spend time with the people he describes as having "astonishing resilience".
He added: "There's no doubt there has been a significant increase in cancers, particularly where radiation was at its highest. So there are obvious and definite health consequences in terms of birth defects and so on.
"The psychological impact is that whole communities feel depressed, anxious, stressed and hopeless, as if there's nothing for them in life.
"But it's utterly uplifting that people can take so much adversity in their lives and find a way to deal with it.
"It's certainly sad and I cry a lot, generally on my own, but nonetheless it's good for the soul to try and make a small but positive impact on their lives."