Officials warn Oxford's May Day revellers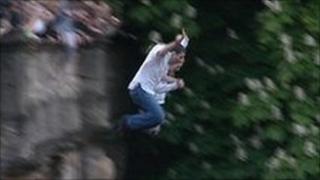 Emergency services have issued a number of warnings ahead of the May Day celebrations in Oxford.
Traditionally, thousands of people gather on and around Magdalen Bridge to hear choristers sing hymns at dawn from the tower at Magdalen College.
The bridge, which will be open this year, has been closed on May Day morning since 2005 after 40 people were injured jumping into the river.
Paramedics and police said they wanted people to think about their behaviour.
Maria Langler from South Central Ambulance Service made a video warning about the dangers of jumping from the bridge.
She said the water was only about two-feet (0.6m) deep and concealed items like broken bottles and abandoned bicycles under the water could be dangerous to jumpers.
"If you get impaled on any of those objects you could be in serious trouble," she said.
Last year, about 30 revellers ignored safety warnings and broke through barriers to jump from the bridge.
The county council said the cost to the health service in 2005 was about £50,000.
'Unique occasion'
Police urged people not to "abuse" the decision to allow pedestrians access this year.
They said that drunk and disorderly behaviour would not be tolerated and those who were too drunk would be ordered to leave the city centre.
Karen Crossan, NightSafe manager, said: "We want people to come out and enjoy this vibrant and unique occasion which is such a part of Oxford city life.
"We know the majority of people behave exceptionally at this event. Those who feel the urge to deviate from such good standards of behaviour will be excluded from the event."
Morris dancers
Many other events will take place across the city, including morris dancing in Radcliffe Square, Catte Street and Broad Street.
The Hurly Burly Whirly Early-in-the-Morning Band, a collection of Oxford folk musicians, will be in Broad Street from 0600 until 0730 BST.
Oxford Castle will have special performances from 1000 BST throughout the day.
Oxford City Council and the county's cultural development agency, Oxford Inspires, are both working with an event producer responsible for the big occasions in the city.