RAF serviceman aged 50 on Afghanistan frontline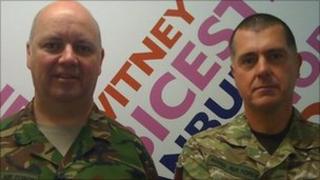 A serviceman from Oxfordshire who first joined the Royal Air Force in 1977 has just returned from frontline duty in Afghanistan.
Jim Izzard, 50, from Wantage worked as an engineer until 1986 when he left the military to become an electrician.
But at the age of 45 he decided to re-enlist as a reservist.
Mr Izzard said he was happy to be back in active service. "I certainly wouldn't have missed the experience for anything," he said.
He now serves with the 606 reserves squadron based at RAF Benson in Oxfordshire.
During his four-month tour in Helmand Province Mr Izzard worked completing rotor turning refills - which means he refuelled helicopters while they still had their rotor blades turning.
'Fit enough'
Squadron Leader Gary Lane said: "The frontline fighting piece is a young man's game but there are lots of areas in the Ministry of Defence that do require somebody that's got a little bit more life experience.
"As long as somebody is fit enough to keep up we can take people from all walks of life."
Next March the team Mr Izzard was working with will be going back to Afghanistan for another tour and he is keen to join them again.
"I hope so but it's down to my boss, i.e. Lorna my wife," he said.