Oxfordshire farmers 'fear crop failure after dry spell'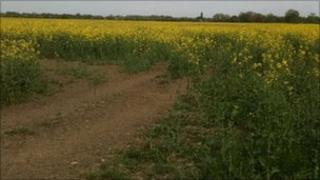 Farmers in Oxfordshire fear the recent dry weather could cause a shortage of crops in the county, the National Farmers Union (NFU) has said.
Charles Dingwall, an arable farmer at Lyford, near Wantage, and chair of the NFU in Oxfordshire, says farmers are concerned about wheat, hay and silage.
Mr Dingwall said cracks in his land were a "condition of drought".
He said if there was not substantial rainfall in the next fortnight yields may drop, causing higher food prices.
Among the crops Mr Dingwall grows are oil seed rape for the diesel market and winter wheat for animal feed.
He said the crops had stopped growing due to a lack of rain.
'Nothing we can do'
"It's not moving on as it should," he said.
"If we have a continuing situation like this, we're going to have a lack of yield in the head [of the wheat] and we're going to have a lack of straw in the base.
"And the lack of straw will mean there's going to be a shortage of straw for livestock farmers.
"I also grow hay for grass here, that, again, is not moving forward."
He added: "If we have very little rain during the next fortnight, these crops are going to be seriously under stress.
"But there's nothing we can do about it," he added.
"We can't irrigate it, it's absolutely out of the question."
He said irrigation was "expensive" and "nobody's got the equipment to irrigate".
"We just have to leave it to mother nature and when the weather breaks."