Oxfordshire migraine sufferer wants surgery on NHS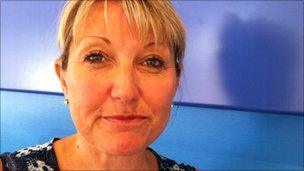 A migraine sufferer from Oxfordshire has said that more research should be carried out into a treatment that could potentially cure her.
Pam Mason, 46, from Long Hanborough, has suffered from debilitating headaches since she was 13.
She said a technique that removes two small muscles in her forehead could help but is not approved by the NHS, so would cost £3,000.
The NHS said it is too expensive and not sufficiently well proven.
Supercilii muscle resection involves relieving the pressure on nerves by making an incision in the eyelid and taking out two small muscles.
Mrs Mason, who gets migraines two to five times a week, currently takes prescription drugs and said she suffers "the most horrendous pain".
"I think there needs to be a study done," said Ms Mason.
"I get my pain behind my right eye and the only thing you want to do is gouge behind the eye to get to the pain. It's the most horrendous pain, you can't do anything."
"I don't know any employer that would be happy to have someone call in a couple of times a week to say they can't get to work - I spend half my life in bed."
In a statement Oxfordshire Primary Care Trust said: "At the present time, the published evidence as to how well it works is limited."
"Whilst the treatment appears to show a positive outcome in some patients, the published evidence is well short of the standard necessary for the NHS to commission and fund this treatment."
Professor Thomas Muehlberger, who offers the treatment at a London clinic, said the effectiveness of the procedure can be tested before surgery by injecting botox into the muscle to see if the desired results can be achieved.
He added that only about 50% of those wanting the treatment are eligible.
"The £3,000 would be a pretty smart investment considering that Pam would otherwise be a migraine patient consuming an endless number of migraine medications forever," he said.
Mrs Mason has taken drugs called triptans for 10 years and a drug called Omeprazole to counter its side effects, along with antidepressants.
She pays £110 a year for her prescription but the real cost to the NHS is higher due to the discount she receives.
The procedure is not being considered by the National Institute for Clinical Excellence (NICE), which provides guidance on treatments.
The Migrane Trust's chief executive, Wendy Thomas, said: "There is not a good evidence base on which to make a recommendation and therefore the Migraine Trust would not recommend... supercilii muscle resection procedure as a treatment for migraine."
In 2008, Dr Paul Davies, consultant neurologist at Oxford University, said he was also sceptical.
He said: "The placebo response in migraine is high and I suspect [this] accounts for the results.
"I would not encourage my patients to go down this route."
Related Internet Links
The BBC is not responsible for the content of external sites.