Terrapin seen in Oxfordshire Thames tributary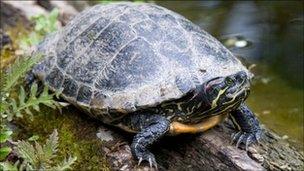 An amateur photographer has pictured a terrapin basking on a log near his home in Little Wittenham, Oxfordshire.
Duncan Russell and his wife saw the animal while walking along the banks of a tributary to the River Thames.
Mr Russell said: "Apparently it's a red-eared terrapin… I've never seen anything like it in the wild before."
Reptile keeper at the Cotswolds Wildlife Park, James Rennells, confirmed it was a terrapin that has probably been abandoned by its owner.
He said: "Lots of them, in their hundreds of thousands, have been sold in the pet trade - especially in the 90s through the Teenage Mutant Ninja Turtle craze."
The Hollywood film created such a demand for the animal that the EU banned the import of red-eared terrapins in 1997.
Mr Rennells said the North American species can survive in this country because UK summers are relatively warm and during the winter they hibernate but in severe cold many will be killed off.
British Waterways' said that last year four terrapins were spotted and 21 were seen in 2009 but none of these were on rivers or canals in Oxfordshire.
Terrapins are not considered a serious problem in the wild because they find it almost impossible to breed.
Sophie Adwick, scientific officer at the RSPCA's wildlife office, said pet owners should ensure they are aware of the needs of the animal they are taking on.
Related Internet Links
The BBC is not responsible for the content of external sites.