Rossetti painting of Oxford's Jane Morris to be sold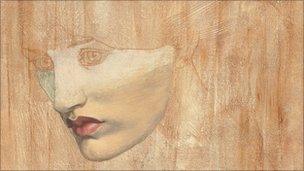 A Pre-Raphaelite painting never previously sold is coming to auction next month.
The Head of Proserpine is an 1872 portrait of Oxford-born Jane Morris by her lover Dante Gabriel Rossetti.
It was owned by the artist's descendent and described by Christie's as an "iconic late oil painting".
Christie's Victorian and Impressionist sale on 15 June also includes a drawing of Jane by Rossetti.
Morris was discovered by the Pre-Raphaelites, who were searching for models when painting the Oxford Union murals.
At the time she was Jane Burden, the poor daughter of an uneducated stable-hand and illiterate mother.
She married William Morris, one of the main pre-Raphaelite artists, but later became Rossetti's lover.
Rossetti told the landscape artist G. P. Boyce in 1873: "I am hard at work on a picture of Proserpine, which I have begun and re-begun time after time, being resolved to make it the best I could do".
He painted about eight versions of the picture, although not all were finished.
The subject shows Morris as the Greek mythological figure of Proserpine.
Dragged down to the underworld, Proserpine ate six pomegranate seeds, meaning she had to stay for six months each year.
For the Greeks, her mother's grief over this annual period was the reason for winter.
Another drawing of Morris in the sale, dating from the 1860s, depicts her in another mythological pose as one of the Fates.
Related Internet Links
The BBC is not responsible for the content of external sites.