Oxfordshire colleges offer cut-price degrees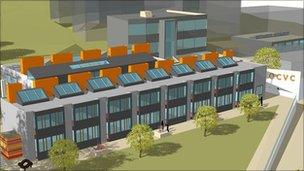 Oxford's universities find out in the summer if they can charge up to £9,000 a year for degree courses, but some Oxfordshire colleges are moving in to offer a cut-price alternative.
These include foundation degrees that take two years plus a top-up year at Oxford Brookes University to turn them into full degrees.
Sally Dicketts, principal of Oxford and Cherwell Valley College, said: "If these degrees give them better jobs and better pay I think they will be seen as equal to any other similar degree."
The college currently offers a motorsports foundation degree in Bicester and a business degree at Brookes.
The proposal to the Office for Fair Access (OFFA) is that two year foundation courses in participation with the university cost £6,000 per year from 2012/13.
Abingdon and Witney College has foundation degrees that include animal behaviour and welfare, computing and equine science.
Ripon College at Cuddesdon, near Wheatley, offers a foundation degree for priests and lay preachers.
Ms Dicketts added: "We're offering a local opportunity with Oxford Brookes University and local employers to make sure that when you do your degree it's going to be very employment-relevant, so you're not one of the unfortunate graduates who leave university with debt and no job."
The college will find out on 15 June if it has been granted approval for a new creative arts practice degree at its new Banbury campus.
Art student Samantha Cunningham, currently studying in Banbury, said: "It's really close to where I live, it'll save me a lot of money and I'd probably focus more being closer to home.
"You do two years at college, then you go up to university for a top up year and then I'd have to do a year of teaching.
"I can't afford three years at uni."
Jackie Whitehouse, head of creative arts at Banbury, said that many of her students went on to study at prestigious universities.
"But we do know that they are responding to increased fees and a lot of our students want to stay in the locality," she added.
Further education and skills minister John Hayes said: "I want to see a lot more higher education sourcing further education.
"It's a brilliant way of broadening access.
"If you look at the kind of people that study at further education colleges they broadly represent the communities in which they're situated."
Related Internet Links
The BBC is not responsible for the content of external sites.