Red kites swoop on children eating lunch in Watlington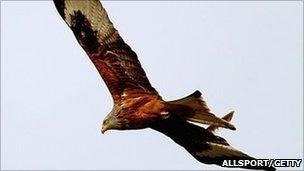 Pupils at a school in Oxfordshire say they have been targeted by red kites swooping down to take their food.
One student at Icknield Community College in Watlington is said to have been scratched by one of the birds as he ate lunch in the market town.
A farm worker said the increasingly bold kites were "sweeping up" chickens. Witnesses have also described seeing the birds perching on prams.
Experts say the problem stems from people feeding the birds of prey.
Pupils at the college have been told not to eat their lunches in the playing fields.
One student, Joe, said: "Red kites come and swarm around everyone when they're eating. They've swooped down to grab it out of our hand.
"One Year 8 [student] had his hand scratched by one of them and had a tetanus jab."
Red kites were reintroduced to the Chilterns area in the 1990s after becoming extinct in England.
There are about 500 to 600 breeding pairs in the area today.
Cathy Rose from the Chilterns Conservation Board said: "We should not encourage them to come down by putting additional food out.
"Then their numbers will actually become balanced with the amount of food that nature can provide for them.
"Let them survive naturally in the wild and they will control their own numbers that way."
Ms Rose added that the red kites attracted tourists to the area.
"It's an area of outstanding natural beauty so it's already attracting lots of people, but the kites just give an added focus of interest for wildlife enthusiasts."
Susan Hemmache, who works on a farm in the area, said the birds were becoming bolder.
"The red kites swoop down in our yard where we've got chickens and chicks and just sweep them up and take them away.
"I came out on my drive and saw something red in the road thinking it was a cat. It swooped up holding a squirrel with its tail hanging down.
"There are too many. They need culling a little bit."
Wing Commander Dan Startup at RAF Benson said large flocks could be an issue for pilots.
"They can easily be sucked into jet engines. It's very difficult to avoid them so you could fly into them and there's an obvious hazard for helicopters in the area.
"They're a fantastic animal and we love seeing them around here. They're a protected species and we respect that but we discourage them from the local airfield."
Colin Wilkinson, a conservation officer for the RSPB in Oxfordshire, said: "There are sadly a minority out there who would love to take us back to the 19th Century and shoot, trap and poison all kinds of birds of prey.
"Red kites are big, spectacular birds and I'm sure they're a bit scary close up but I think we need to respond to this kind of story with thought and care. "
The birds were formerly widespread and common in the UK, but they were gradually killed off by farmers and gamekeepers.
Mr Wilkinson added: "Red kites are a tremendous conservation success story and now a familiar sight.
"Most people are delighted to have red kites back in Oxfordshire as part of our bird community."
Related Internet Links
The BBC is not responsible for the content of external sites.