Oxfordshire home of Jerome K Jerome stages Three Men in a Boat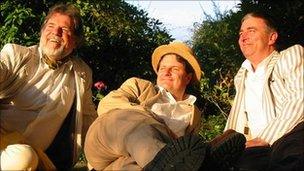 A production of Three Men in a Boat will be staged in a theatre at the writer's former home in Oxfordshire.
Author Jerome K Jerome spent 18 years of his life in the village of Ewelme where he entertained friends, including Arthur Conan Doyle and HG Wells.
He built two theatres there and the current owner Tania Ruck Keene is using one to stage an adaptation of his book.
Proceeds from the performances on Friday and Saturday evenings will go to the local church and the Red Cross.
The event came about when Mrs Ruck Keene was approached by Ian Pearce from Adaptable Theatre.
Mr Pearce wrote a stage show based on the classic Three Men And A Boat 10 years ago and has since toured the play in the West Country.
He said: "It's really nice to think of the journey that script has made - that we end up in this wonderful place where he lived and where he built this theatre."
Mrs Ruck Keene, who has lived in house for 25 years, said that it was a great opportunity to keep the small 95-seat venue alive.
She said: "He was such an amusing character and it's nice to feel we have that connection with it."
Three Men in a Boat by Adaptable Theatre takes place at the JKJ Theatre, Ewelme, Friday 3 June - Saturday 4 June.
Related Internet Links
The BBC is not responsible for the content of external sites.