Oxford faith groups unite for peace walk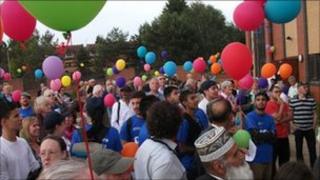 More than 700 people from 15 different faith groups have walked through the centre of Oxford to demonstrate their desire for peace and respect.
The walk took place on Tuesday evening, starting at the synagogue on Richmond Road in Jericho, passing the University Church and finishing at the mosque in Manzil Way.
Reverend Charlotte Bannister-Parker started the inter-faith walk seven years ago during the Iraq War.
She said the walk was a fantastic display of unity for peace.
The Bishop of Dorchester, The Right Reverend Colin Fletcher, Imam Munir Christi and Rabi Norman Solomon all took part in the walk as well as Hindus, Sikhs and representatives of other religions.
Understanding and respect
At the end of the walk the participants enjoyed a communal meal at the Central Mosque.
The first course was prepared by the Muslim community and members of the Jewish community prepared the desert.
Mrs Bannister-Parker said: "I'm just so pleased the walk is helping to develop understanding and respect among the different communities in the city."