Mask-lift robber caught on CCTV after Cowley bookmakers raid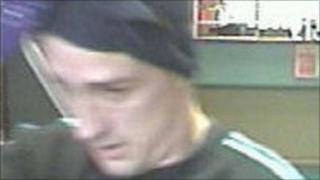 A robber who mistakenly lifted off his balaclava as he fled the scene of a robbery at a bookmakers in Oxfordshire has been caught on CCTV.
The man had entered Ladbrokes in Cowley and threatened a shop worker at about 0930 BST.
The employee handed over hundreds of pounds but as the raider fled police said he mistakenly lifted up his mask.
No-one was hurt and the man did not use a weapon. Police appealed to anyone who knows the man to come forward.