Bactrian camel's pregnancy surprises zoo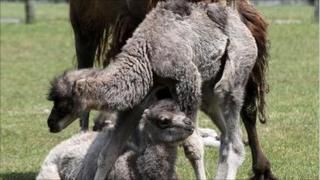 Zoo keepers were left surprised after three camels from an endangered species gave birth within days of each other.
Bactrian camel Tinker had recently moved to Cotswold Wildlife Park, Burford, Oxfordshire, and experts did not know she was pregnant.
The arrival of Rita was followed by that of two other camels and a zebra days later.
Ten diminutive prairie dogs, which live in underground towns and are difficult to observe, were also born.
The zoo said that as Tinker was a new arrival, they did not think she would have mated with sire Chewy so soon.
Curator Jamie Craig, said it had been a "bumper year for births".
"Three camels and a zebra in a three day period is certainly unusual and a fantastic bonus," he added.
"Our prarie dog family also surprised us this year, having not bred since their arrival.
"We have now counted ten youngster as they appear above ground and there may be more."
Bactrian camels were thought to be extinct in the wild until an expedition in 1957 sighted a small herd of them on the Mongolian slopes of the Altai Mountains.