Great Tew Estate wall restored with 500,000 stones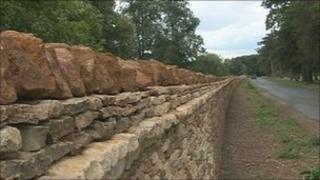 A section of dilapidated parkland wall has been restored by a team of local dry-stone builders using only traditional techniques and materials.
Almost 500,000 stones were used to repair 1km (0.6 miles) of the 100-year-old wall at the Great Tew Estate in north Oxfordshire.
The work has taken 18 months and will be finished in the next few weeks.
Craftsman Roland Lewis said though the work took time, it was likely to survive well into the future.
"The strength of a dry-stone wall is that it actually moves with the ground, so faking it, while it can be quicker, will actually last a lot less time," he said.
Ice house
The £300,000 project was made possible with a grant from Natural England.
It was completed by re-using stones from the existing wall, with small amounts from the estate's ironstone quarry and a nearby Cotswold stone quarry.
Part of the project included the restoration of a Victorian ice house where meat would have been stored.
Estate owner Nicholas Johnston, said: "These are traditional structures and I think it is important they are preserved.
"I think they can be preserved using traditional techniques."