Henley Royal Regatta: new orders curb drinking and anti-social behaviour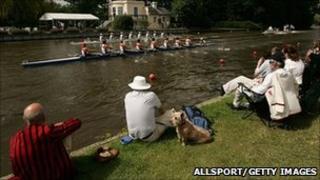 People drinking in Henley-on-Thames town centre could face arrest or fines of £500 because of a new order.
Police will also be able to confiscate alcohol from people responsible for disorderly behaviour.
South Oxfordshire District Council approved the plans that come into force on 29 June in time for the Henley Royal Regatta.
Supt Chris Sharp, Area Commander said a drinking culture had developed in the evenings during the event.
The Designated Public Place Order is applicable to anti-social acts such as violence, criminal damage and disorderly behaviour.
Refusal to hand over alcohol could result in arrest and fines up to £500.
Dorothy Brown, cabinet member for community safety at the council, said: "South Oxfordshire is one of the safest places in the country and this new order will help us to keep it that way.
"Everybody should be able to enjoy Henley without worrying about anti-social drinkers ruining the experience."
A similar order was approved by Wokingham Borough Council on 19 May for the Remenham side of the river.