Tennis coaches attempt record tennis match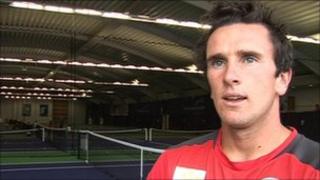 Two Oxfordshire tennis coaches have passed the 27 hour mark in their 72 hour world record attempt to play the longest continuous singles match.
Andy Aitken and Ryan Trickey have now played 37 sets of tennis at the White Horse Leisure and Tennis Centre in Abingdon.
The current Guinness World Record is almost 61 hours.
Former tennis star Tim Henman said he was supporting the attempt and would be following it on Twitter.
He added: "I'm sure they will do it with the help and support of all their family, friends, colleagues and well-wishers."
Mr Trickey said they expect to burn about 40,000 calories and run about 70 miles during the attempt.
He is currently leading the match 27 sets to 10.
The Guinness World Record attempt is being made in support of the Dan Maskell Tennis Trust, a charity that raises funds for people with disabilities.