Skydive Weston in Oxfordshire angry over closure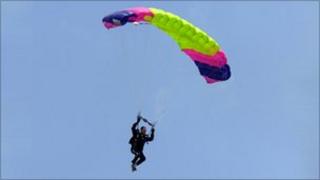 A 40-year-old skydiving club at RAF Weston-on-the-Green in Oxfordshire is set to close after the RAF decided it could no longer operate from the base.
Skydive Weston halted jumping in June but was allowed to keep renting its buildings. It has now decided to close.
Director Ash Kemp said the decision to not allow a club to use the base's facilities "was a complete waste".
The RAF said it could not underwrite the club and was reviewing how facilities at the base were used.
An RAF spokesman added: "Although the activities conducted in the past by Skydive Weston have been (at) no cost to the MoD, to maximise our business it is essential that we use the facilities at Weston-on-the-Green, and indeed all of our stations, to their full potential."
Mr Kemp claimed he was told by the MoD it wanted to take back control of the Oxfordshire club by setting up a Royal Air Force Parachute Association, with Skydive Weston running the franchise.
But he said delays in formalising the agreement and a lack of detail from the MoD had meant the club had lost the trust of its customers and been forced to close.
'Best facilities'
He added: "They said to us they'd like us to continue here as part of that organisation. Now they are just saying maybe sometime next year, and it may involve Skydive Weston."
The club, which has 500 members, organises more than 15,000 jumps a year on weekends and at times when the RAF is not using the airfield.
As well as the money it pays to rent the buildings, the club, which in the past three years has produced two world champion skydiving teams, had offered to pay the MoD a share of each jump fee. The club said it would have amounted to £500,000 for the RAF over five years.
"It's the biggest centre in the country, it's got the best facilities and they are just not being utilised and it is a complete waste," said Mr Weston.
In a statement, the RAF said: "The RAF are committed to reviewing military requirements at RAF Weston-on-the-Green, including future Joint Services Adventurous Training, continuing to seek the best value for money.
"The process will include the potential for the generation of income and the optimal use of the facilities at the station.
"As our initiative matures, the RAF will continue to liaise on a regular basis with Skydive Weston Limited on how they and the RAF may collaborate in the future."