Lights in Wolvercote tunnel warn bats of trains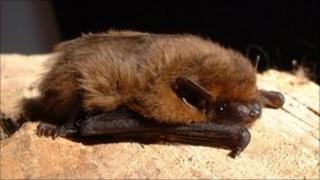 A light system that warns bats about oncoming trains is being installed in a railway tunnel near Oxford.
Chiltern Railways has commissioned a trial in the Wolvercote tunnel as part of its plans for a new service between Oxford and London Marylebone.
The service would see more trains travelling through the tunnel, which is used by at least four bat species.
The chairman of the Oxfordshire Bat Group, David Endacott, said the system was an "interesting experiment".
Chiltern Railways has installed 25 lighting units in the tunnel which will be triggered by approaching trains.
It is hoped the bats will be alerted by the lights and move to safe crevices at the side of the tunnel.
Mr Endacott said: "I doubt in the winter months it would be much of a problem, because if they are in the tunnel they would be hibernating, but in the summer months faster trains in the tunnel could be a problem for them."
There will be a three-week trial to examine the effectiveness of the system and see how the bats react.
The common and soprano pipistrelle, the noctule and the Natterer's bat are all thought to use the tunnel, which goes under the Wolvercote roundabout on the A40.
It is mainly used by bats as a "flight corridor" so they can avoid flying over the well lit road, but up to 19 bats have been recorded roosting in the tunnel.