Chinese lantern field fire narrowly averted by farmer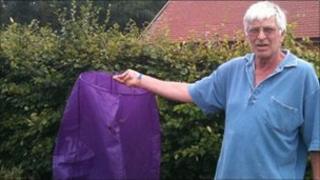 An Oxfordshire farmer narrowly avoided losing a field of straw after a flaming Chinese lantern landed near him while he was working.
Brian Henman, from Pegtop Farm, near Woodeaton, had just finished baling on Wednesday evening when the lantern landed about 50 yards away.
He said: "If it had happened to land on some straw it could have set the whole lot alight."
A severe crop fire near Woodstock last year was caused by a similar lantern.
Mr Henman said he did not want to spoil people's fun, but warned they posed a serious fire risk and could even kill cattle if the wire inside the lanterns got mixed into grass used as feed.
He added: "Somebody in Oxford last night happened be letting these off and did not realise or think about the implications [of] where they land."
Speaking after the Woodstock incident, president of the National Farmer's Union Peter Kendall said: "We don't want to be killjoys at all, but we would urge partygoers and venues to resist the temptation to release lanterns into the countryside."