Goring-on-Thames tortoise fitted with wheels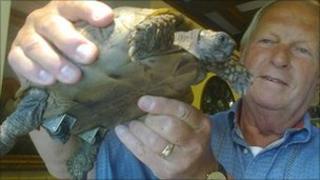 A 100-year-old tortoise that woke from hibernation unable to move her back legs is mobile again thanks to a set of furniture wheels.
Owner Bill Jackson, 71, from Goring-on-Thames, Oxfordshire, said Yuri had difficulties after sleeping for over two months.
"She was dragging herself around the garden looking rather miserable," he said.
But a visit to his local hardware shop solved the problem.
Tanya Brown, from Goring Hardware, said: "We established we needed swivel casters so the tortoise could still rotate on its back legs.
"It was one of our most unusual cases but we do rise to the challenge."
Ms Brown described the ensuing operation as "fairly straightforward".
Removable double-sided sticky tape was used to attach the wheels to the underside of Yuri's shell.
Mr Jackson said: "She's happy now. She's eating, walking and speeding around.
Temporary measure
"She comes out the moment the sun comes out but doesn't go quite as far as she used to."
It is hoped the wheels are a temporary measure and that Yuri will regain movement in her legs.
Mr Jackson said he has taken Yuri for several visits to the vet but he was unable to diagnose the problem.
Jimmy Reynolds, reptile zookeeper at Cotswold Wildlife Park, said: "It sounds like it's worth a shot if she's getting on with life and seems happy.
"You can be in the game for a long time and not hear every story."
Mr Jackson has owned Yuri for 40 years, inheriting the pet from a previous owner who said they could not cope.
He and his wife also own horses, chickens, two dogs and a parrot.
Yuri's favourite foods include strawberries, bananas and brown bread.