David Walliams claws back time in Thames Sport Relief swim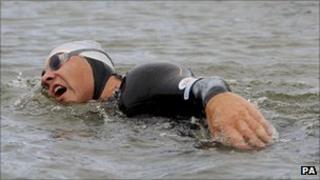 Little Britain comedian David Walliams has finished day two of his latest fund-raising effort to swim 140 miles of the Thames in eight days.
He began swimming at dawn to make up for lost distance after ending day one 2.3 miles (3.7km) short of his planned stop, Northmoor Lock in Oxfordshire.
Walliams reached Abingdon Bridge at 20:20 to round off day two of his Big Splash Challenge for Sport Relief.
He swam through the dark to complete the 21 miles to Abingdon.
Shortly after 20:00 on Tuesday, the Sport Relief Twitter feed described the last mile as "really hurting" Walliams.
'Colder and harder'
The comedian's 140-mile (225km) challenge is expected to take eight days and has so far raised more than £91,450 for charity.
He started at the river's source near Lechlade, Gloucestershire, on Monday morning, where hundreds of people turned out to cheer the star on, and will finish at Big Ben.
Day two saw Walliams swim through Oxfordshire, via Eynsham, Oxford and Osney, before finishing at Abingdon.
Hundreds gathered at Abingdon Lock to offer support.
During a break, Walliams said: "I was determined to make up for the time I lost yesterday so I started at dawn and made up two miles but the weather is causing a real issue.
"The wind on my face is harsh and the torrential rain is making today extra difficult.
"Plus, the fact that I got up so early to make up for lost time means that I'm having to refuel more often, making the schedule difficult to stick to. Despite how tough it is, every pound donated is really helping to keep me going."
Unpredictable currents
To avoid disappointing fans who had gathered to see the star at Northmoor Lock, west of Oxford, on Monday evening, he travelled by boat to greet them.
During the swim, Walliams will battle powerful and unpredictable currents and undertows and will burn the equivalent of 4,400 calories every day.
As well as navigating the busy river traffic, Walliams will have to deal with murky water that harbours a cocktail of bacteria such as E.coli, salmonella and hepatitis.
Walliams will also have to avoid the 39 million cubic metres of raw sewage that finds its way into the Thames every year after heavy rainfall.
The distance is equivalent to swimming the Channel seven times. Walliams swam the Channel successfully for Sport Relief in 2006.
He has also swum the Straits of Gibraltar, and last year cycled from John O'Groats to Lands End, also for Sport Relief.