Oxford Hub opens new city restaurant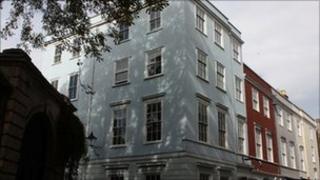 A prominent four-storey building in the heart of Oxford has been leased to a student-led charity to act as a base for their community activities.
The Oxford Hub, on the corner of Turl Street and Ship Street, officially opened on Thursday evening.
As well as the charities' offices, the council-owned building houses a public performance space and bar restaurant.
Proceeds from the Turl Street Kitchen, on the ground floor, will help fund the students' charity work.
The Oxford Hub manager Rachel Stephenson said: "There's a bit of a divide in the city and we hope that this building slap bang in the middle does something to bring university folk and local folk together."
Ms Stephenson, 25, co-founded the Oxford Hub four years ago while she was at Oxford University studying French.
She set up the charity to help students get involved in community action during their time at university.
It now supports about 800 Oxford University students a week and is part of a UK-wide Student Hub project.
The Turl Street Kitchen will be open to the public from Monday.