Abingdon soldiers save stabbing victim with credit cards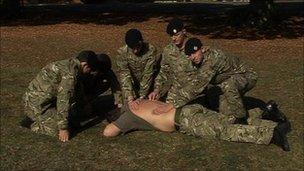 Five soldiers from an Oxfordshire regiment have received an award for saving a stabbing victim by improvising with credit cards.
Sgt Terence Wall, L/Cpl Sam Neil and Ptes Ben Regan, Lee Wingrove and Cal Owen Thomas witnessed a bar brawl in which a man was stabbed several times.
The men from Abingdon's 4 Logistic Support were training in Calgary, Canada, at the time.
L/Cpl Neil said: "We went in and did what needed to be done."
He added: "We're all soldiers and we're all expected to do this at some point.
"It happened instinctively. We saw that someone was injured and not one of us at all thought about it."
As L/Cpl Neil and Pte Thomas reassured the injured man's distressed girlfriend and controlled the watching crowd the others removed his T-shirt and applied first aid.
He was suffering from an open pneumothorax, which occurs when air gets into an open wound in the chest wall.
In the field it is usually caused by gunshots and treated with an item of dressing called an Asherman's Chest Seal.
Pte Wingrove said: "He had five stab wounds to his back.
"We applied pressure with credit cards and Blockbuster cards until the paramedics came to take over."
The Exceptional Recognition award was given on behalf of Calgary's Chief of Police by Brig Justin Maciejewski.
Brig Maciejewski said: "I'm extremely proud of the action of these soldiers.
"They epitomise the very best qualities of our soldiers.
"They showed considerable moral and physical courage when they intervened."
Related Internet Links
The BBC is not responsible for the content of external sites.