Oxford patients warned of admin delays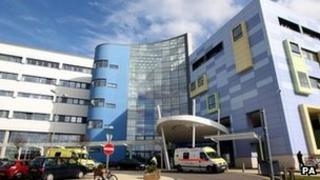 Patients in Oxfordshire have been warned of possible administrative delays due to the introduction of a new £15.7m IT records system.
In a letter, the head of the county's NHS trust said a major new system was being brought in, adding administration could take "longer than normal".
The system had originally been due to launch at the weekend but was delayed. It is now due to launch on Saturday.
Sir Jonathan Michael said it will bring benefits to patients and staff.
But he also warned of delays during the first two weeks after its launch.
The database contains patients' records, including medical history, appointments and details of past operations.
It is due to go live on Saturday at the John Radcliffe, Churchill and Horton hospitals. The Nuffield Orthopaedic Centre has already been updated.
In the south of England there will now be nine trusts with the system.
It costs £158,000 per month for the service charge until the end of the contract in October 2015.
The service charge and a one-off £15.7m payment will be met centrally by the Department of Health.
In September the government announced it was scrapping the board running an £11bn IT project for the NHS, allowing hospitals to choose their own computer systems.