John Radcliffe Hospital upgrades theatre alarm system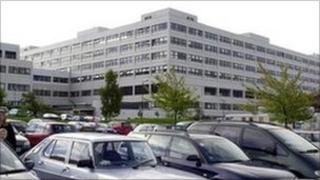 A hospital is spending £14,000 on a new alarm system in its operating theatres amid criticisms of its use of whistles.
The whistles have been available to alert medical staff in emergencies at the John Radcliffe Hospital in Oxford.
Julian Hill, of the Royal College of Nursing, said it needed to invest in a system "guaranteed to work".
A spokeswoman for Oxford Radcliffe Hospitals NHS Trust confirmed: "We are installing a new system as soon as we can action the work".
Mr Hill said he was "really concerned" that the hospital had relied on whistles.
'Simple and effective'
"The risk assessment should be discussed with staff so they'll feel safe with the plans and clearly that doesn't seem to have happened in this case," he said.
"In the event of an emergency, anything to call help is good, but it's 2011 and what they should have is a really solid system to prevent any untoward incidents for patients or staff."
Amanda Middleton, general manager of critical care, theatres, diagnostics and pharmacy, explained that theatre staff have other options when they need to raise the alarm.
"The whistles have been added to the range of options so that staff have a way of raising support quickly that is simple and effective and not reliant on technology," she said.
"The older operating theatres at the John Radcliffe Hospital have never had an integrated call bell system but that is about to change.
"Meetings are being held this week to move this forward."
A hospital spokesman said the addition of the whistles was "very recent" and there had been "no formal process" to introduce them.
The hospital also has telephones, an intercom and two-way radios in its operating theatres.
However, the newer West Wing and Churchill hospitals are equipped with integrated bell systems.