Wolvercote Lakes to benefit from £70,000 revamp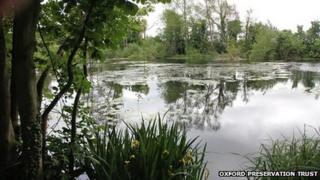 A private Oxfordshire nature reserve is to open to the public for the first time thanks to a £70,000 grant.
Wolvercote Lakes were donated to the Oxford Preservation Trust in a will last year.
The funding from GrantScape Community Greenspace Challenge Award will help to improve access and footpaths at the two lakes and the surrounding land.
The work will take place next year and it is hoped the lakes will open to the public in spring 2013.
'Special atmosphere'
The 8.2 acre (3.1 hectare) site was left to the trust by Viv Kirk, one of its supporters.
The lakes had been in the Kirk family for two generations.
"This space meant a great deal to Mr Kirk and we are keen to improve its contribution to conservation whilst keeping its special atmosphere, and to share it with a wider audience," said Debbie Dance, director of Oxford Preservation Trust.
Bridges, a viewing hide and "dipping" platforms will also be created at the lakes.
Local resident Jo Malden said: "We welcome the new plans which provide the right balance of preserving and encouraging a sanctuary for wildlife while offering the residents a place of discovery."