Thefts from Oxfordshire churches more than double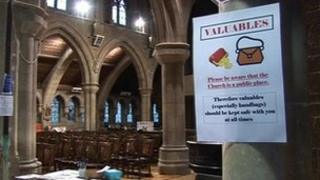 Thefts from Oxfordshire's churches have more than doubled in the past year.
Figures from the police obtained by the BBC show there were 263 thefts between May and October, compared with 99 during the same period in 2010.
Incidents include worshippers having purses stolen while taking communion and lead theft from church roofs.
Tony Baldry, the Conservative MP for Banbury, and a church commissioner, described the act of stealing from churches as despicable.
He added: "The people who are having to cover the loss very often are themselves struggling communities.
"The church is providing a community resource, it's providing a place not only for people to worship but also very often for people to meet."
Oxford churches accounted for 161 of the 263 thefts.
The Rev Adam Romanis, vicar of St Mary and St John church in east Oxford, said opportunistic thieves were taking advantage at busy services to rob parishioners.
But lead and a copper lightning conductor had also been taken.
Safe-cracking
He added that the church could no longer be left open to the public when unsupervised.
"So often people will come in to say a prayer, or just sit or enjoy the quiet or to look out of curiosity.
"We love it when they do that and we want to encourage that, but unfortunately that can't be the norm."
Verona Harris, who has worshipped at the church for over 60 years, said her purse was stolen during an Easter service.
"I saw this man disappearing with it and as he went out of the door he said, 'Happy Easter' to me," she said.
"I was not amused. I hope it did him some good because there was quite a lot of money in it.
"It happens when people go up to communion. Most people take their handbags with them which is such a bore, but we just have to do it."
CCTV footage captured an intruder trying to crack into a safe at St James the Great in Radley near Abingdon.
When this failed the thief took a poppy collection box instead.
The Rev Pam McKellen said: "We do want our churches to be open as much as they can be because they are a refuge.
"But we're in a dilemma as to how we can do that and not everybody can have a CCTV camera."