Royal Marine Richard Hollington 'killed by Afghan bomb'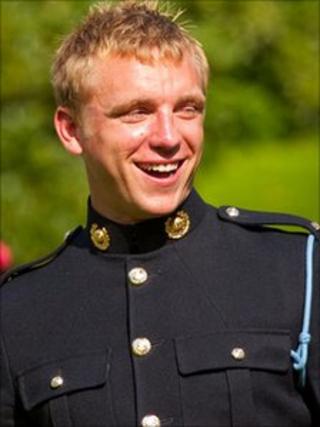 A Hampshire Royal Marine may have been killed in Afghanistan by an insurgent triggering an explosive device, an inquest has been told.
Richard Hollington from Petersfield was walking back from lending a camera when the blast occurred, the hearing at Sutton Coldfield Town Hall heard.
Marine Hollington, from Somerset-based 40 Commando, died eight days later in a Birmingham hospital in June 2010.
He was the 300th British serviceman to be killed in Afghanistan.
On the day of the explosion in the Sangin district on 12 June 2010, Marine Hollington, 23, was working as the second vallon operator in a patrol, the inquest heard.
Sergeant William Macfarlane told the hearing a "ground sign" was spotted - a line of stones meaning that insurgents had probably been in the area and planted Improvised Explosive Devices (IEDs).
He said the patrol planned to turn away from the area, but that he often took photos to document significant moments.
Sgt Macfarlane told the inquest he had forgotten his camera so Marine Hollington, known to his friends as Dickie, brought his camera over to him.
"There's no way he stepped out of the safe line," Sgt Macfarlane said.
"He gave me his camera and then walked back the way he had come.
"At this point I was looking down at the camera and the explosion went off."
Sgt Macfarlane said he briefly saw two men running from the area just after the explosion.
"We believe that it was a command wire IED," he told the inquest.
He said that meant "it was a device planted in the ground and somebody nearby, behind a wall or similar, has set it off".
The inquest also heard from Dr Nicholas Hunt who said Marine Hollington has died of meningitis and contaminated blast fragment wounds to the pelvis.