New Year Honours: Knighthood for Prof Diarmaid MacCulloch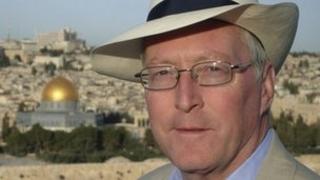 A leading church historian and television presenter from Oxford has received a knighthood in the New Year Honours.
Professor Diarmaid MacCulloch is best known for his six-part BBC television series, A History of Christianity.
The university academic has been given the title for services to scholarship.
He said he was "extremely honoured, flattered and delighted" by the award which showed how valuable arts subjects like the history of religion were.
Prof MacCulloch added: "They are the sanity of our society. Without them we wouldn't have memory and we wouldn't know how to look at the future properly."
'Dumbfounded' on award
In other honours, Malcolm Cochrane, from Shipton-under-Wychwood, was appointed MBE for his services to the community.
The 73-year-old, who has spent more than 40 years serving on the parish council, been a church warden and worked for various clubs in the village, said he was "dumbfounded" when he received the letter.
He said he never expected that someone "who is doing a lot of menial jobs running around the village" would receive such an award.
Speaking about his time as church warden he said: "I didn't really enjoy it very much because it was always about the building falling down more than it was about religion."
But he said being involved in the youth club and raising money for the new village hall had been very rewarding.
Other Oxfordshire residents recognised in the New Year Honours include:
CBE
David Flint, chief executive of Oxford Instruments, for services to business and science.
Professor Lionel Tarassenko for services to engineering.
Keith Budgen, the former regional director of HM Courts and Tribunals Service for the south east region.
OBE
Neil Bruce, from AMEC plc, for services to engineering.
Helen Ellis for services to publishing.
Professor Diana Woodhouse, the former pro vice-chancellor of research at Oxford Brookes University, for services to legal scholarship and higher education.
MBE
Timothy Philip Stimpson from Oxfordshire County Council.
James Hewitt for services to financial inclusion in Oxfordshire and to the local community.
Doreen Hobbs for services to the community in Watlington.
Trevor Alan Cowlett for services to music in Oxford.
John Huddleston, from AEA Technology, for services to the environment.
Professor Robert Lloyd Walker for services to social policy research.