MP Ed Vaizey wants solution over Abingdon bus cuts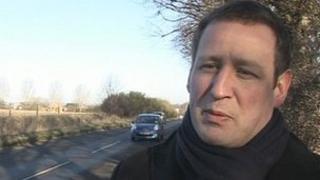 An Oxfordshire MP has said he wants to find a "creative solution" to the decision to cut a free school bus for some pupils.
Only children living more than three miles (5km) from their school in Abingdon now qualify for free travel.
Ed Vaizey, the MP for Wantage, met parents at the weekend and said he wanted to avoid taking sides.
But walking the route he agreed the parents "had a very good point" and it could be "a bit of an ordeal".
A council spokesman said a review discovered free transport was being provided when it should not have been.
It argued the journey was safe to make on foot.
Pupils living less than three miles away who want to use the dedicated buses to schools in Abingdon will now have to pay £240 a year.
But parents in the village of Drayton said the walk took an hour and was unsafe because there was no street lighting along busy roads.
Campaigner Karen Sharman said: "I think they should use common sense and overturn the decision."
'Room for discussion'
The three-mile rule implemented by the council works by postcode.
This means some children in the village will pay for transport and some will not, despite catching the same bus from the same bus stop.
In December Oxfordshire County Council said: "There are very good footway links and good crossing provision. No accidents involving pedestrians have been reported in the most recent five years on this route."
About 20 parents will now have their appeals heard separately by a panel of three county councillors.
Mr Vaizey said: "I still think there is room for discussion and negotiation and I hope that I can have a meeting with county council officers to discuss the situation and I would hope they could come and walk the route with the children, perhaps on their route to school to see if it's an appropriate decision that they've taken."