War refugee Paul Jacobsthal's Oxford life highlighted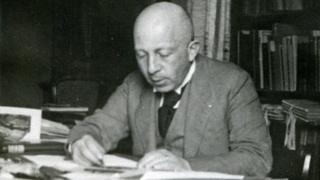 The experiences of a Jewish academic who fled Nazi-controlled Germany to settle in Oxford is the focus of a new exhibition on the city's World War II refugees.
Professor Paul Jacobsthal was an eminent archaeologist who arrived in Oxford in 1936 and, until his death in 1957, worked at Christ Church College.
He was a leading expert in Celtic art but his studies were considered politically dangerous by the Nazis, as the ancient pan-European art form did not fit with the regime's nationalistic doctrines.
Despite leaving Germany, Mr Jacobsthal's letters reveal that many of his former colleagues continued to write to him with information and support for his research, in direct defiance of the Nazi regime.
In 1944, such correspondence enabled him to publish a ground-breaking book called Early Celtic Art.
Marissa Kings, of Oxford University's Institute of Archaeology - which set up the project - said the work "was immediately hailed as a near-masterpiece and remains a benchmark in Celtic studies today".
'Stories untold'
On display at the exhibition are Mr Jacobsthal's personal letters dating from 1920 to 1957, which also reveal his experiences of worsening conditions in Germany, his escape to Christ Church, internment during the war, and reconnecting with the continent afterwards.
Other personal items include photographs of him and his wife, their works of art and his typewriter.
The exhibition, which also features other refugees' photographs and personal mementoes, is the culmination of a project to show the contribution refugees made to Britain's cultural life.
Project director Dr Sally Crawford said many people from Oxfordshire approached her researchers with their accounts of the war years, either as refugees or because they had provided homes for refugee families.
"One of the main themes to emerge from the interviews we did with the survivors was that no-one had taken an interest in their stories before," she said.
'Personal and Survival: A wartime refugee's story' runs until 10 March at Oxford Town Hall and Museum.