Residents urged not to feed red kites in Chilterns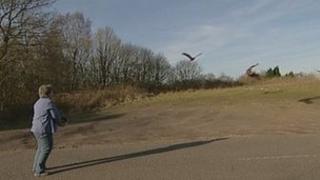 A conservation board in Oxfordshire has renewed its plea for local residents to stop feeding red kites.
Cathy Rose, from the Chiltern Conservation Board, told the BBC's Inside Out programme they were "magical animals" but it was time for people to stop feeding them and let them survive naturally.
Red kites were reintroduced to the Chilterns in 1989 and their numbers have increased from 93 birds to more than 600 breeding pairs.
Some local residents have complained the birds are becoming a nuisance because people feed them.
But one of the men who helped reintroduce them into Oxfordshire has said he does not think it is a problem for people to feed them.
Illustrator and naturalist Nigel Snell was the regional co-ordinator during the reintroduction scheme.
"Anytime anybody sees masses of anything they always think there are too many of them," he said.
"We've only got to go a short way up the M40 and you'll hardly see any of them."
'Sensationalist news'
People feeding red kites in their gardens can attract as many as 50 of the birds, which predominantly scavenge for their food.
Ms Rose said: "People have been putting food out for red kites for years thinking that they are doing them a favour but what it might be doing is causing them to cluster in areas where perhaps they are not as welcome as they might be.
"Maybe they are breeding in areas where they are being fed at a level that is higher than the area would naturally be able to sustain.
"People start reading sensationalist news stories about children being injured by kites or kites coming down into peoples gardens and we don't want the kites to be viewed in that way."
Gamekeeper Joe Wasylowski has said people should be fined for feeding the birds.
"I don't think people should be doing it like this," he said.
"I think they should be left alone to get on with it like the rest of the wildlife."
Coal merchant Richard Smith has fed the birds regularly for nearly a decade.
He said he only feeds them once a week so they do not become too dependent.
And Gill Smith, who also regularly feeds the birds, said: "We don't feed them so much in the summer because there is more food about but in hard winters, it just sees them through."
Red kites in the Chilterns is featured on BBC Inside Out South at 19:30 GMT on Monday.