Archbishop to debate with Richard Dawkins in Oxford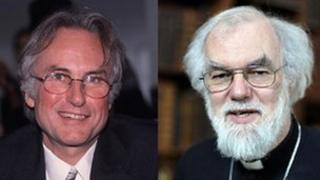 The Archbishop of Canterbury is to debate with one of the country's leading atheists, Professor Richard Dawkins, in Oxford.
The sold-out event will be chaired by the philosopher Sir Anthony Kenny and will take place at the Sheldonian Theatre on 23 February.
It is being organised by Oxford University's Theology Department.
The subject for discussion is the nature of human beings and the question of their ultimate origin.
People without tickets will be able to watch it streamed live on the internet.
Both men have strong connections to the city. Dr Rowan Williams studied theology, at Wadham College. Professor Dawkins is an emeritus fellow of New College and he studied zoology at Balliol College.