Drayton crash pilot Flt Lt Mike Blee 'had back condition'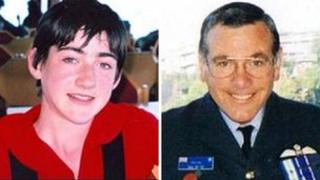 A pilot with a severe spinal condition was given the go-ahead to fly by a doctor with a drinking problem, an inquest in Oxford has heard.
RAF reservist Flt Lt Mike Blee, 62, and air cadet Nicholas Rice, 15, died after their light aicraft hit a glider in Drayton, Oxfordshire, in June 2009.
Dr Douglas Wyper, who approved Flt Lt Blee's pilot's licence, said he should have referred him for further tests.
Flt Lt Blee's condition restricted head and neck movement, the inquest heard.
The two-seater Tutor aircraft had taken off from RAF Benson in Oxfordshire on an air experience flight carrying Mr Rice, from Calcot, near Reading, and pilot Flt Lt Blee, from Abingdon.
Brittle and rigid
It collided with a glider flown by Albert Freeborn, 29, from Portchester, Hampshire, who was able to parachute to safety.
Flt Lt Blee suffered from a rigid ankylosed osteoporotic spine, the inquest heard.
The condition caused his spine to become brittle and rigid, so that he bent forward and could not straighten up.
Dr Wyper, former medical officer at RAF Benson, was responsible for approving Flt Lt Blee's annual pilot's licence between 2005 and 2009.
Giving evidence from Bannf in Scotland, via a videolink, Dr Wyper said Flt Lt Blee's condition had not deteriorated, but admitted he should have referred him to a rheumatologist for further tests.
"He was pretty fit except for his posture," he said.
"With hindsight, I should have undoubtedly referred him."
Dr Wyper told the inquest he had asked a colleague to carry out a cockpit assessment on Flt Lt Blee as his two main concerns were whether the pilot could move his neck and get out of an aircraft.
The inquest heard how Dr Wyper failed to mention Flt Lt Blee's condition in his licence applications between 2006 and 2008.
Asked why he had failed to provide details, Dr Wyper replied: "I've no idea."
Dr Wyper told the inquest that a colleague at RAF Benson had reported his drinking to the General Medical Council.
He was monitored from 2005 and subsequently suspended from medical practice in 2010 because he had been caught drinking when on call.
"I was drinking rather a lot", he admitted.
The inquest continues.