Oxford homes flooded by burst water main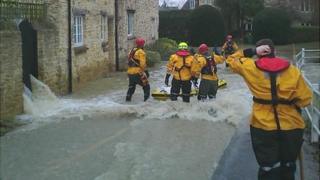 Twelve homes in Oxford have been flooded after a water main burst leaving another 2,500 without water or facing low pressure to their homes.
Thames Water said the leak had been isolated and repairs were under way.
A spokeswoman said a 24in (60cm) water main burst shortly before 07:00 GMT on Friday, on the slip road off the A34 on to Manor Road at South Hinksey.
Fire and rescue crews had to use a boat to help people evacuate their homes and rescue belongings.
Resident Stacey Norris, who was lifted to safety by firefighters, said her pet cats had drowned in the flooding.
'That powerful'
Another resident Maggie Rawcliffe said the water was 4ft (1.2m) high in parts and in places had lifted up the road surface.
She added: "There are piles of rubble and huge great kerb stones that have just been lifted up and deposited by the flow of the water, it was that powerful.
"The houses, [the water] was flowing through their gardens and out through their front doors.
"One person in the second house had to be rescued because the force of the water was so great she couldn't open her front door.
"The fireman had to rescue her from the top floor."
David Heycock, group manager at Oxfordshire Fire and Rescue Service, said the water was flowing freely around an area of about half a square mile of South Hinksey.
Mr Heycock said: "It's fairly deep in places to the point where we've mobilised our boat and we are in dry suits helping people in their properties to evacuate and move their precious belongings.
"We were dealing with a large amount of water that was having a major impact on households.
"The water levels dropped quickly once the leak had been isolated and we were then able to focus on removing the water from the affected properties."
Sandbags delivered
The Red Cross was also called in to help and Oxfordshire County Council sent 2,000 sandbags to the area.
In a statement, Thames Water said: "We are very sorry to those affected by this incident, particularly to those whose homes have been flooded.
"Our loss adjusters will be on the scene today to begin the insurance process in order to get people's homes and lives back to normal as soon as possible.
"Our engineers are beginning the repair job - first cutting off water through the main then digging up the road and replacing the broken section of pipe.
"This, together with rebuilding the road back over the pipe, is likely to take at least a week."