Borderville headline Upstairs Oxford at the O2 Academy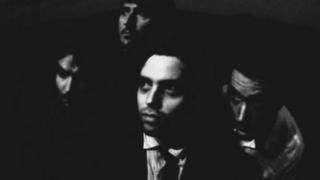 Upstairs at the O2 Academy in association with BBC Introducing will return for its first show of 2012 with headliners Borderville.
Joining the glam-rock band on the Saturday 17 March bill are Flights of Helios, The Long Insiders, The Empty Vessels and Invisible Vegas.
Borderville frontman Joe Swarbrick said: "We're very excited. It's been a few months since we played in Oxford and we feel very comfortable on a bigger stage."
The band will be performing their concept album - based on the Franz Kafka novella The Metamorphosis - in its entirety.
Borderville count David Bowie, Jacques Brel and Stephen Sondheim amongst their influences.
Explaining the decision to tackle the concept, Joe said: "It was a belief that a band can look outside of the standard collage/scrapbook sort of album format and try and write something that was really very specific.
"Most concept albums don't really do that, they're more impressionistic, perhaps with the exception of [Pink Floyd's] The Wall.
"We're interested in storytelling, like a lot of songwriters are, but we're trying to tell the story across the album in a way which is accessible rather than obtuse and clever-clever."
The band continue to think outside the box, with a theatre project planned next.
"We'll be doing some workshops with a director and a writer at the National Theatre studios in the next month or so, so hopefully stuff will start to stick together a bit more."
'Swamp-voodoo-goo'
According to Nick Kenny from The Long Insiders, the BBC Introducing gig will be his band's first of the year.
He added: "We are eager to get back on it. Our last gig was also at the Academy. It's such a good venue, and BBC introducing has a great history of supporting up and coming bands."
The band will be showcasing songs from their forthcoming debut album The Sound Of Cat Gut And Engine Oil.
"Our shows these days are pretty much full tilt primal rock and roll," he said. "There is no other band in Oxford doing what we do, so we feel we have something different to offer, just don't expect folk, or woolly jumpers.
"Do expect reverb, lip gloss, hair grease, primal rhythms, scorching guitars, and some swamp-voodoo-goo."
Flights of Helios formed in late 2011. Band member Seb Reynolds describes them as a "post-prog drone-pop band".
"We combine proggy, tripped-out sound collages with fractured deconstructions of Irish folk ballads and 70s Eno-influenced nuggets of pop joy," he added.
Gig goers will also witness The Empty Vessels' old school take on rock and blues cool, and big pop and rock anthems from Invisible Vegas.
Meanwhile, Borderville's Joe Swarbrick is keeping an open mind on the shape his band's next album may take.
"I'd like to maybe just write a normal record, but I'm not sure I'm capable of that," he said.
Every month a selection of local talent plays theregular band nightsat the O2 Academy, with highlights featured on BBC Radio Oxford'sIntroducing programme.