Oxfordshire pensioner spends life savings on junk mail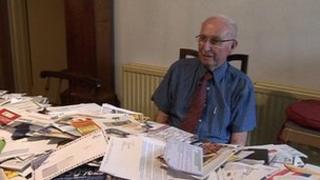 It started when Oxfordshire pensioner Graham Townsend received a letter in the mail informing him that he had won a £1.7m lottery jackpot.
He was told that all he had to do was respond to the sender with a small amount of money to claim his prize.
But six years and 20,000 letters later, Mr Townsend found himself £30,000 out of pocket and admitted to a hospital.
"It was never ending," he told the BBC. "It was a good thing I ended up in a hospital when I did."
Mr Townsend, 79, from Witney, found that his details had been added to a "suckers list".
It meant fraudsters were now circulating them amongst each other.
'Eye-watering'
He said: "It started with one or two letters coming through the letter-box.
"Gradually as weeks went by so did the increase of mail coming through.
"I used cheques, credit cards, much to my regret.
"They'd take so much out for themselves then pass my credit card details to someone else and it escalated."
Kate Davies, from Oxfordshire Trading Standards, said Mr Townsend's case was at the "most extreme end".
"The vast majority of the junk mail you receive with prize draw advertising on it will be on the legal - if eye-wateringly not good for you - scale.
"But Mr Townsend wasn't tricked by a legitimate honest trader who was just being cagey about terms and conditions, these people were out-and-out crooks."
Geraldine Taylor, his niece, said she did not realise the extent of the problem until she stayed at his house whilst he was in hospital, suffering from stress.
She said: "I saw all this junk mail. He was having at least 120 letters per week and replying to most of them, sending between £10 and £15 in each of the envelopes."
'Gone for good'
Scam mail often comes in the form of letters sent by fraudsters from overseas countries that try to persuade people to part with money on false promises of winning cash prizes.
The Royal Mail said it was legally obliged to deliver all addressed mail.
For Mr Townsend, the letters eventually escalated into early morning phone calls.
"At quarter to four my phone went, and they were asking for money for the lottery," he said.
"They said I owed the money and I said 'get lost' and put the phone down.
"But the damage was done then and I couldn't get back to sleep, wondering about this money they said I owed."
Stephen Profit, deputy head of the Home Office's Action Fraud, said scam artists targeted the vulnerable.
"As soon as they've got into you, they keep at it, and at it, and at it."
He said documents could look legitimate, but letters claiming the recipient has won an overseas lottery they never entered were certainly fraud.
But it is too late for Mr Townsend, who has been conned out of his life savings.
"The £30,000 was what I eventually put by to use for my final years," he said.
"I can't earn money to replace that, it's gone for good."