Traffic banned on Kidlington High Street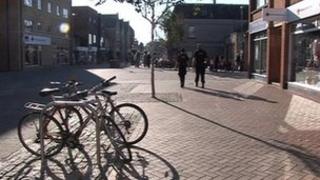 Traffic is to be banned in the centre of one of England's largest villages.
The new pedestrian zone is to be enforced from 16 April on a permanent basis on Kidlington High Street, in Oxfordshire.
Trish Redpath, clerk to Kidlington Parish Council, said the new rules would mean a more pleasant environment for shoppers.
The street will be closed to vehicles, except those of permit holders, between 10:00 and 16:30.
A Cherwell District Council spokesman said: "Blue badge holders, cyclists and deliveries will be permitted at any time outside these hours, but no waiting will be allowed except for loading."
Kidlington has a population of about 15,000, and a parish instead of a town council.