Child sex trafficking case police arrest 13 in Oxford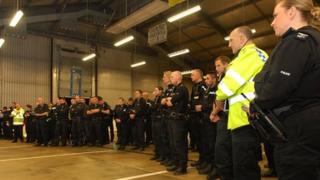 Thirteen men have been arrested in Oxford by police investigating child exploitation offences.
Police said the men, aged between 21 and 37, were arrested following an investigation into exploitation of 24 girls aged between 11 and 16.
They have been arrested on suspicion of prostitution of females under the age of 18, trafficking, grooming and rape.
Four of the men have been released on police bail until 19 April and nine remain in custody.
Thames Valley Police said they believed the offences had taken place over a six-year period.
Twelve men were arrested during early morning raids with a 13th arrested on Thursday afternoon.
The suspects are also being questioned on suspicion of administering drugs for the purpose of rape.
Police believe gang members targeted British children living in care or who had run away from home and transported them around Britain.
'Protect victims'
Det Supt Rob Mason said: "We believe we have uncovered an organised crime group who have been running a business of selling young girls for sex.
"We have also identified a number of customers who we have reason to believe have used this service.
"The warrants executed today are the second phase of this investigation and the arrests have been made to protect the girls from further harm.
"Our number one priority is to protect the victims, both their identities and wellbeing."
Neighbourhood policing teams will be carrying out reassurance patrols in the area.
Oxford Commander, Supt Chris Sharp, said: "I understand today's events will have an impact on residents.
"Policing teams will be issuing information about the operation with contact details if people need further information, or would like to report any activity in relation to this investigation."
The police investigation was carried out in conjunction with Oxfordshire County Council's children, education and families department.
Sheila Taylor, director of the National Working Group for Sexually Exploited Children and Young People, said: "As always, our concerns lie with the young people who have been victims.
"We are very pleased to see a complete multi-agency team approach to assisting the recovery of the young people."
The men are being held in custody at an undisclosed police station.
Thames Valley Police said it expects to extend the custody for some of the suspects which will keep them detained until Friday.